MULTI ACCESS RURAL RADIO
MARR consists of a Base Station Unit (BSU) connected to the network through trunk lines, and the remotes are provided in the remote locations. The remotes (RSU) can be as far away as 45 Kms clear line of sight.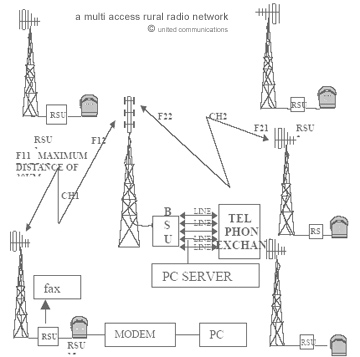 PRODUCT DESCRIPTION

Typically 20 locations can share 8 Radio Channels or 4 channels can be shared by 36 channels


Is an ideal equipment for connecting different location on shared Radio channel basis


Equipment Works on VHF/UHF Band.


This has been extensively used to provide rural communication links for connecting Rural communities to the PSTN. Equipment is transparent to any signaling/dialing plans and usually is set for CCITT type 5 MFR2 signalling.


At BSU an omni directional antenna is used


At RSU end a yagi antenna is used.





Features



Broadcast messages from any RSU through the base station.


Group call facility from BSU or any RSU.


Dialing plans & interfaces.


230V AC compatible.


Extension of range through suitable repeaters.


Pre-defined call duration setting.


Compatibility with DTMF & Pulse dialing.


Monitoring of RSU status from BSU station.


Extension of subscribers up to 120.





Application



Private networks


Remote Hilly Areas /Sites where in Laying Cables is a constraint .





Mechanical Dimension



Base Station Unit (BSU) – Rack Ht - 3 Ft Antenna – Omni Directional 15 feet Tower – as required


Remote Station (RSU) (L X B X H) = 320 X 95 X 280





Specifications
| | |
| --- | --- |
| No of Radio Channels | 4/8 |
| No of Remote Subscribers | 20/40/90/120 |
| Frequency Range | VHF / UHF |
| Tx-Rx separation | 25 MHz |
| Type of Modulation | FM |
| S/N ratio at 1Khz over a single hop for 10 micro-volt RF signal input | 50 db Min |



Transmitter Specifications

Power at Antenna port

2 Watts (Min), 5Watts (Max)

Freq deviation for 1kHz tone

3.3KHz + 0.3 KHz a level of 0dbm at 2W points

Maximum frequency deviation

5KHz peak (Max) of +5dbm at 2W points

Signalling frequency deviation

a. 125/3825 Hz Tone : 1.3 KHz + 0.3 KHz (max)
b: DTMF Tone : 2.5 KHz + 0.6 Khz

Frequency stability of carrier

5 ppm or better

Spurious

25 Microwatts

Protection

Tx shall be protected against infinite VSWR

Cooling of Transmitter

Natural cooling

Output connector@ antenna

N male



RECEIVER SPECIFICATIONS

Type

Superhetrodyne

Intermediate frequency

10.7 MHz and 0.455 MHz

Sensitivity

a: 12dB or better SINAD for a level -107dbm at Antenna port.
b: S/N ratio of 50dB or better for RF level of –87dbm at Antenna port.

Image Rejection

80dB or better

Selectivity at + 25KHz from Rx freq

60dB or better

Squelch

-116 dBm +3 dBm

Hysteresis

2 + 1 dBm

LO frequency stability

5 ppm or better

Input Connector

SMA female

Overload point of Receiver

-20 dBm or better



Get in touch with us if you require more information about MARR