The 2Ghz Digital Microwave Radio(2 Mbps and 8 MBPS) - DMR 2120 is a compact power efficient point to point communication equipment, which is widely deployed as a backbone network for communication links.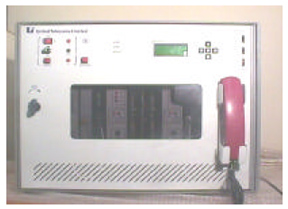 United Communications - DMR 2120

The DMR2120 is used in rural and semi-urban areas as a terminal or as regenerative type repeater, covering the entire frequency range of 2.0 ghz-2.5Ghz. Bands.



System Features



Synthesized trans-receiver frequency control


O-QPSK modulation.


Built-in Test Equipment (BITE)


Supervisory facilities provided to monitor the status of the system


Order Wire with Remote supervisory facility permits monitoring of remote station from any site


Flexibility to configure either to 4 X 2 Mbps / 1 X 8 Mbps


Compact and modular in construction offering efficient, flexible & low cost transmission solution


Front panel LCD display for configuration and monitoring


MTBF : >52,000 hours


Coverage is not a constraint for a clear line of sight



Operating Temperature : 0° C to 50° C



Redundancy



In Hot standby Tx and Rx path switching is independent. Switching can be either automatic or manual

Power



Power



Power supply : -40 V to -60 V, (-48 V nominal)


Power consumption : < 100 W for 1+1 System



Standards


As per CCITT and ITU-T& ITU-R Stds



TECHNICAL SPECIFICATIONS



Capacity : E1 ,4xE1 or E2


Channel Capacity : 120 Max


Data Rate (Mbps): 4x2 Mbps /8Mbps


Adjacent channel spacing: 7.0


System gain (dB): > 112


Modulation : OQPSK


Demodulation: Coherent


Insertion loss : Tx port to antenna port <= 2.5.0 dB


Tx-Rx isolation :90 dB or better



Transmitter specifications



RF frequency range: (2.0-2.5)GHz


RF power : +31 dBm. (nominal)


RF output impedance : 50ohm (nominal)


Spurious and harmonic o/p: -50 dB or better at the antenna port


Frequency step: Settable in 3.5 MHz increments



Receiver Specifications



RF frequency range : (2.0-2.5)GHz


Overall noise figure <= 4 dB


LO stability:± 20 ppm or better


IF frequency:70 MHz


AGC dynamic range : 45 dB min


Decoding : De-scrambling



Get in touch with us if you require more information about DMR 2120