E1/T1 fiber optic modem converts an E1/T1 electrical signal into an optical signal. Converted signal is transmitted over fiber optic cable, extending the E1/T1 service range up to 100 km (62 miles).


Supports various optical interfaces such as 850 nm for multimode fiber, 1310 nm for single or multimode fiber 1550 nm for extended range over single mode fiber.

The PCE1-V.35 provides a new level of price/ performance in connecting bridges and routers to unstructured E1 G.703 2 Mbit/s leased lines.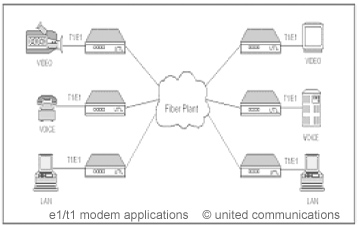 System Features



Transparent to E1/T1 framing (G.704)


Operates over single mode or multimode fibers


Includes front panel LED indicators for status monitoring


Fiber optic modem, extending the range of E1/T1 services over fiber optic Cables up to 100 km


Available as a plug-in card


The modem supports activation of local and remote loop backs.


Clocking modes are set by through a jumper setting, which allow the unit to be set up for all applications.


Synthesized trans-receiver frequency control



Power Supply



AC: 115V / 230 V 47 to 63 Hz,


DC: 24V / -48 V (-36 to -72 VDC)



Physical



Height X Width X Depth : 1.7" X 7.0" X 8.0" (inches)


Weight: 1.1 kg




Environment



Temperature: 0°C to 65°C


Humidity: Up to 90%




Standards



Complies with ITU G.704 and G.955 standards.






E1/T1 Interfaces



Line coding HDB3 , B8ZS


Framing G704 or unframed


Bit rate 2Mbps , 1.544 Mbps


Interface : E1 BNC (75 Ω) or RJ 45 (120 Ω), T1 100 Ω




Fiber interface



Port V.35


Bit rate 2Mbps


Interface Connectors ST, SC or FC/PC




Status Indicators



PWR ON


OPTICAL AIS ON


ELECTRICAL LOW ON


ELECTRICAL AIS ON


Alarm Relay Port





Get in touch with us if you require more information about E1/T1 Optical Modems