Fiber to the Home Technology is about providing a dedicated strand of fiber optic cable to each home, connecting consumer PCs and business desktops to the public networks. No other technology promises "unlimited bandwidth" and such high reliability in terms of signal delivery.


Our FTTH strategy is to partner with project developers across Africa and Latin America to provide a PON-based fiber optic infrastructure to "greenfield" projects, and in turn offer customers Bundled Digital Services-including high-speed Internet access up to 100 Mbps, video-on-demand, cable television services, along with POTS and VoIP long distance telephony services.





The development of PONs-or passive optical networks provides ample backbone for delivery of optical signal to the curb and beyond. PONs, require no active electronics to split and divert signal, showing the promise of facilitating broadband voice, video, and data services because of their lowest-cost, point-to-multipoint transport capability.

Our broadband PON technology deployed in Goa today can deliver high-speed Internet access up to 10-100 megabits per second, cable TV signals and Plain Old Telephone Service optically from a central office to an optical-network termination (ONT) point at the customer premise. PONs have been proven as more reliable, more easily maintained, and more scalable that traditional HFC networks or digital-loop carrier systems.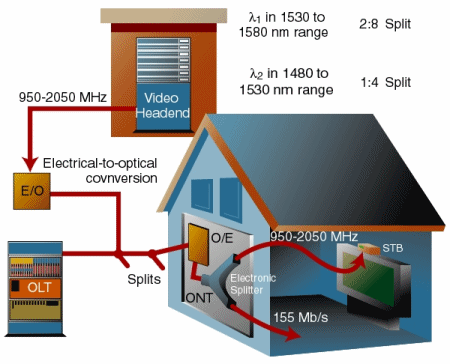 Get in touch with us if you require more information about our FTTH / FTTX solutions