The FWP CDMA CT 801 Terminal is interoperable with IS- 95A ,IS-95BAC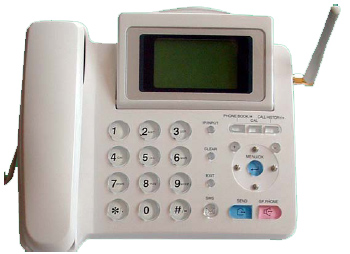 System Features



Voice ,Data , Internet


SMS -90 messages


Polyphonic ring tones - 5


Talk time – 2hrs


Standby time – 72hrs


Phone book – 100 numbers


Stop watch, alarm, scheduler and calculator.


Caller line identification. – 20 numbers in memory


Call waiting and call forwarding.


Call restriction


Hands free – speaker phone.


Speed dialing.


Display Indication


Signal Strength


Battery Indication


Time and date display


Tiltable backlight graphic LCD display


Sound


Adjustable Sound of Speaker


Adjustable volume of ringer


Selectable Ring tone


Compatible with NAM and RUIM.



Dimensions




Weight : 900 Grams


L X B X H : 205mm X 210mm X 80mm



Specifications



Frequency Range : 824~896MHz


Max. frequency deviation : ±300Hz


Voice coding : 8K EVRC,13k QCELP


Max. Power consumption : 150mw


Working temperature: -10 ~ + 55 deg C


Storage temperature: -20 ~ + 70 deg C


Humidity: < 90%.


Battery : Li-ion/Ni –mh


PC FAX supported


Stub antenna SMA Connector


ABS plastic


Resolution: 128 X 64 Pixels


LCD : STN


Keyboard : GB/T 18031-2000


Max Talk time : 3 HRS


Max Idle time : 100 HRS


MEMORY : 4MB Flash + 2MB SRAM


Ringer : 32





Get in touch with us if you require more information about CDMA Terminals