IP DSLAM
Our IPDSLAM is a carrier class DSL access solution tailored to meet customer requirements for high-speed remote access and subscriber aggregation. The IP DSLAM directly and costeffectively interfaces with the evolving IP network in order to deliver high capacity traffic aggregation and robust, "always on" services. In an increasingly competitive environment, the IP DSLAM affords simple and reliable delivery of high demand applications.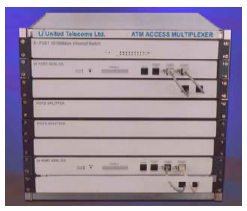 UNITED COMMUNICATIONS IP DSLAM




PRODUCT TECHNICAL DESCRIPTION

The IPDSLAM terminates ATM cells from existing, compatible customer premise equipment and converts them into IP traffic. By directly connecting to an IP router or switch, the IP DSLAM eliminates the bandwidth overhead and provisioning complexities associated with traditional ATM DSLAMs. Decreased dependence on ATM results in the elimination of additional ATM-related elements including Broadband Remote Access Servers (BRAS), greater throughput and simplified management. By utilizing IP instead of ATM in the core, carriers realize significant operational and capital savings. Comprehensive management and operation support is delivered
via United Communications' SNMP-based Network Management Software (NMS).



Network Management Software (NMS) is a centralized, client-server based network management diagnostics tool that supports batch configuration mechanisms, which can significantly simplify the provisioning task and minimize provisioning errors. Traffic from multiple IPDSLAM can be aggregated and passed on to BRAS for layer 3 functionality.



IP DSLAM Product Specifications



System capacity 24 lines


Two 10/100 Base T



Features supported


RFC2684 multi-protocol encapsulation over AAL5


Spanning tree algorithm


Statistics monitoring on Ethernet and on bridge interface


IGMP snooping


VLAN Tagging


Support for RFC 2684


Supports the encapsulation of bridged Ethernet PDU over AAL5 using RFC 2684.


Both VC multiplexing and/or LLC multiplexing supported.


Supports transparent bridging, per IEEE 802.1d, between the WAN port and any ADSL ports configured for RFC 1483 bridging encapsulation



ATM Features


ATM Forum TM 4.1 QoS


Per VC Shaping/Policing


EPD/PPD Congestion Management


ATM OAM I.610 F4/F5 Fault Management per I.610


ATM Cell Multicast Support


EDTF Algorithm for CBR/rt-VBR Traffic


WRR for UBR/ nrt_VBR Traffic


ATM Statistics: Per VC, Per Port


Header Translation & Cell Switching


Required MIBs



Management features


In-band IP over AAL5


SNMP V 2 agent


RS232 CLI


Telnet


Remote/local service provisioning, system management and monitoring with SNMP
or a CLI (command line interface)



Packet Features


Multi-Protocol Over ATM RFC 2684 (1483)


TCP/IP Protocol


IEEE 802.1D MAC Bridging


IEEE 802.1P Priority Tagging


IEEE 802.1Q VLAN Bridging


IEEE 802.3ad Ethernet Trunking


IEEE 802.1d Spanning Tree


Generic VLAN Registration Protocol (GVRP)


Generic Multicast Registration Protocol (GMRP)


Per box subtending


WFQ & RED/WRED Congestion Control


BOOTP, DHCP, TFTP and Telnet


IGMP Snooping for IP Multicast



Input Power DC-42V to -56V





SUBSCRIBER INTERFACE



Downstream Bit Rate 32 – 8192 Kbps


Upstream Bit Rate 32 – 1024 Kbps


Impedance 135 Ohms


Power consumption < 2.5 watts per port


Data rate provision Fixed or rate adaptive


Maximum Line loss 60 dB @ 300 kHz


Performance BER < 10-7 with 6dB margin ITU-T G.991.2 test loops


Standard Compliance ITU-T G.991.2


Line Protection As per ITU-T K-20





Get in touch with us if you require more information about IP DSLAM