Grid Transmitters are designed for use in optical transport and high-speed data communication systems equipped with Wavelength Division Multiplexing (WDM). The Transmitter features a 1.5 µm EML with an electro absorptive modulator driver. The device is capable of 640km transmission at 2.5 Gb/s in WDM system.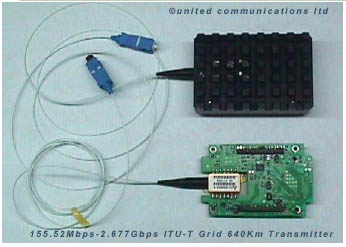 Transmitter supports the I2C or RS232 serial interface to communicate with an upper level controller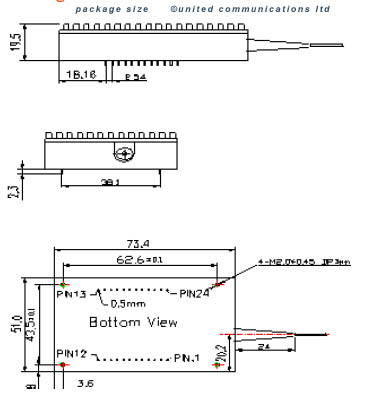 Features


Compliant with OC-48/STM-16 (2.5Gb/s)


Long reach up to 360km and 640 km


Electro absorption modulated laser diode


Wavelength range:
1529.16 ~ 1563.86 nm ±15 pm wavelength
stability over operating case temperature
without locker


Fully digitally controlled module with
embedded one-chip µ-controller


Enable / Disable control input


RS232 and I2C serial interface


Automatic optical output power control (APC) and automatic temperature control
(ATC)


Dual power supply, +3.3 V and –5.2 V


Typical power dissipation of this module is 2 W


Interface can be used to control the transmit enable or disable, clock or nonclock
input selection




Applications


Telecommunications


Inter-office SONET/SDH


Metro and long haul DWDMNetworks


High-speed data communications




Characteristics:


Bit rate Upto 2.7 Gbps


Center Wavelength Range ITU-T Standard 1529 to 1565nm


Channel spacing 100 GHz / 50GHz / 25Ghz


Dispersion penalty < 1.9dB@dispersion>12800ps/nm (640Km transmission distance)


Wavelength Accuracy + 18 pm.


Variation in center wavelength (over operating temperature range) + 30 pm.


Variation in center wavelength (EOL) + 0.16nm


Operating case temperature range 0 to 75 degrees


Operating Ambient temperature range 0 to 60 degrees


Power supply Voltage (VCC) +3.3 V


Power supply Voltage (VEE) VEE (Typ.) = - 5.0V; VEE (Min.) = - 5.25V;


VEE (Max.) = - 4.75V


Power supply Current (+3.3V) 810mA max.


Power supply Current (-5.2V) 270mA max.


Power consumption 4.5W(Max.)


Package MSA compliant 24 pin DIP package


Input data / clock level 150mV to 850 mV p-p (differential)


Input impedance 50 ohms


Clock / Data rise & fall time 100 ps.


Average output power -4 to 1 dBm (0dBm typ.)


Output power variation + 0.2 dB


Spectral width (Spectral width) < 0.4 nm


SMSR > 38 dB


Extinction ratio > 8.2 dB


Fiber pigtail 2m SMF (loose tube / tight buffer)


Connector SC / PC



Get in touch with us if you require more information about our Grid Transmitters